Trusted & Recommended
By Elite Athletes
Recommended By Celebrity
Beauty Make Up Artists
Nutritionists & Dietitians
Recommended Brand
Sun Chlorella
a healthy solution
for your whole family
We create products based only on natural and effective ingredients, by using our patented DYNO-Mill process to provide bio available nutrients for every member of your family.
Sun Chlorella
health food for
your whole family
We create products based only on natural and effective ingredients, by using our patented DYNO-Mill process to provide bio available nutrients for every member of your family.
Shop the world's most premier chlorella and eleuthero since 1969.
scientific researched papers published to ensure that Sun Chlorella is always at the forefront of using scientific discoveries.
registered health and nutrition UK based practitioners that are recommending Sun Chlorella to their clients
continents that you could get Sun Chlorella products across the world.
years of Sun Chlorella has been providing the planet with the high quality health supplements and won prestigious awards for our quality and commitment to education and research
Sun Chlorella products were sold till date across 5 continents to loyal customers
Our aim

- is to be a part of your healthy lifestyle
Our chlorella products contain a significant source of iron and vitamin D, beta-carotene, lutein and active B12.
Our Sun Chlorella Powder is an Informed Sport certified and NSF Certified for sport is tested as safe for athletes.
Chlorella is a perfect nutrition supplement for pets. It's packed with all the vitamins and minerals animals needs to live a fulfilling life full of love and happiness.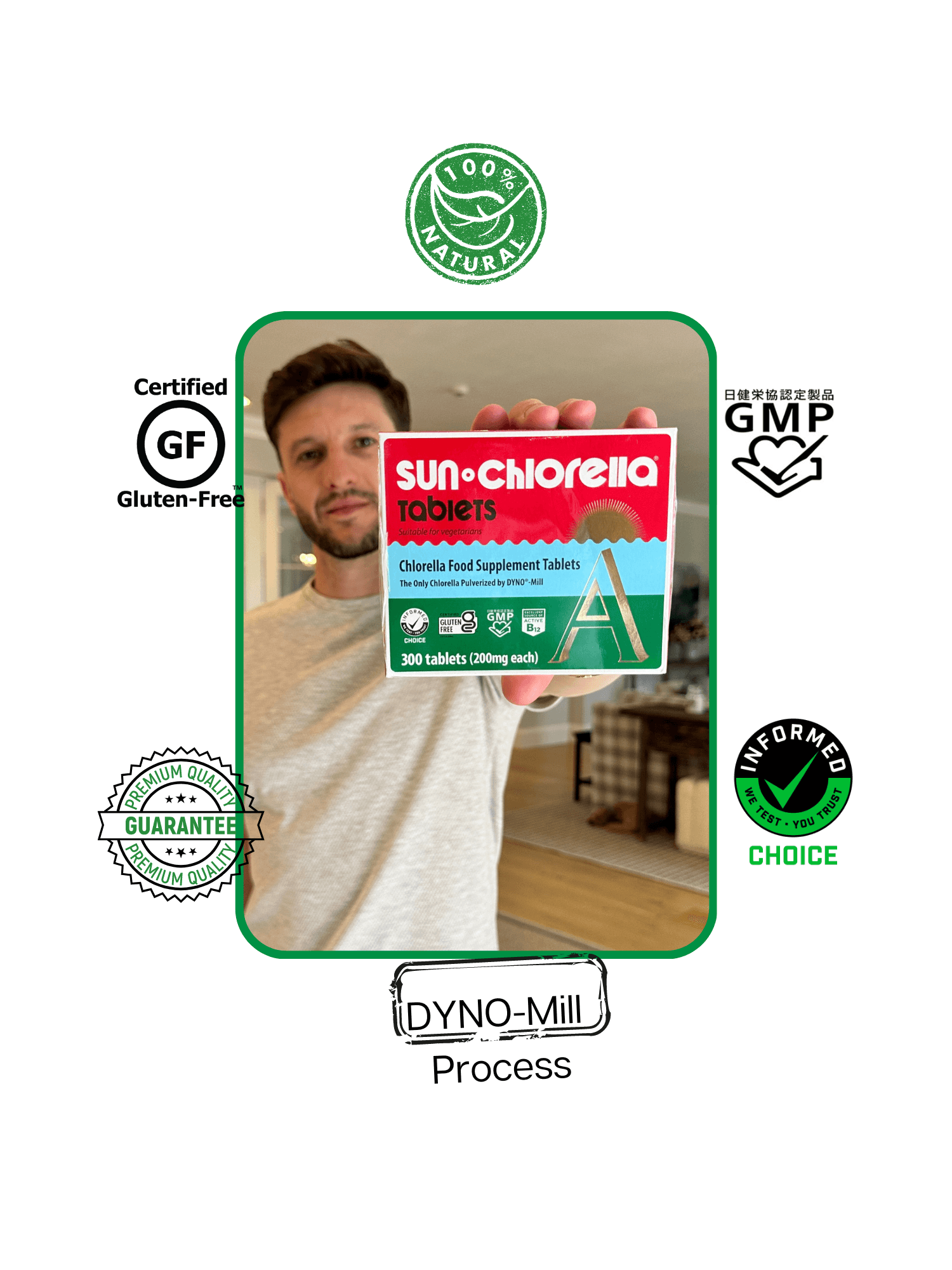 Sun Chlorella pioneered a unique DYNO®-Mill process that has made Sun Chlorella one of the most digestible chlorella on the market.
Highest Manufacturing Quality
Our chlorella is grown in pure mountain spring water, originating from 3,000 metres above sea level.
Chlorella can help support children's health by giving their nutrition a power boost.
Frequently asked
Questions
1. How should I store Sun Chlorella products?
For tablet products such as Sun Chlorella A, please avoid direct sun light and humidity. Also, please seal the aluminum pouch and keep at normal temperature.
For liquid products such as Wakasa Gold, please avoid direct sun light and hot-humid condition, and reseal with the cap and refrigerate after opening. Also, please take liquid products within 1 month after opening
2. What is the difference between Sun Chlorella A and other chlorella?
Sun Chlorella has aimed to manufacture the best quality products since the establishment. For example, our chlorella is cultured outdoors to absorb an energy from the sun and pulverized its cell wall by using the unique patent technology to improve digestive absorption ratio. We strictly control the entire production process from raw material to finished product in order to offer high quality products.
3. What kind of people should take Sun Chlorella products?
For all ages people who do not like vegetables, have an irregular eating habit, want to take vitamins and minerals, and maintain and enhance health.
4. Is it true that Sun Chlorella A is good for pregnant women?
Folate which is highly contained in chlorella is essentially important nutrition for pregnant women and infants. The Ministry of health and welfare recommends taking folate through supplements for pregnant women because pregnant women need folate more than double before and during pregnancy. Sun Chlorella A contains not only folate but also iron and vitamin D which are necessary for pregnant women. We highly recommend Sun Chlorella A to pregnant women and their developing baby.
5. How much should I take Sun Chlorella products daily?
Sun Chlorella products are not medicine. These are health food, so there is no definition of intake. It depends on your living and physical conditions. Most people take below amount daily.
■ Sun Chlorella A →15 to 40 tablets
■ Sun Eleuthero →12 tablets
■ Sun Wakasa Plus →15 to 30ml
6. Is it safe for children to take Sun Chlorella products?
Sun Chlorella is totally safe and in fact beneficial for all stages of growth providing a wide range of
vitamins minerals and enzymes, chlorophyll and amino acids in a food-state. It is very high in micro
nutrition and therefore is very helpful for the body in general to help meet our daily recommended
vitamin and mineral intakes.
Drop your question below and our team will get in touch.
Follow Us @sunchlorellauk
#sunchlorella #healthiswealth