| Typical Values | Amount per 100ml | Amount per 15ml serving |
| --- | --- | --- |
| Energy | 218 kJ / 52 kcal | 32.7 g /7.8 kcal |
| Fat | Nil | Nil |
| Of which - Saturates | Nil | Nil |
| Carbohydrate | 12.1 g | 1.815 g |
| Carbohydrate | 12.1 g | 1.815 g |
| Protein | 1.0 g | 0.15 g |
| Fibre | Under 0.1 g | Trace |
| Salt | 0.48 g | 0.07 g |
Each bottle contains 33 x 15 ml servings.
Concentrated chlorella extract (53%), pure water, fructose, acidity regulator (dl-malic acid), lemon essence, capsicum extract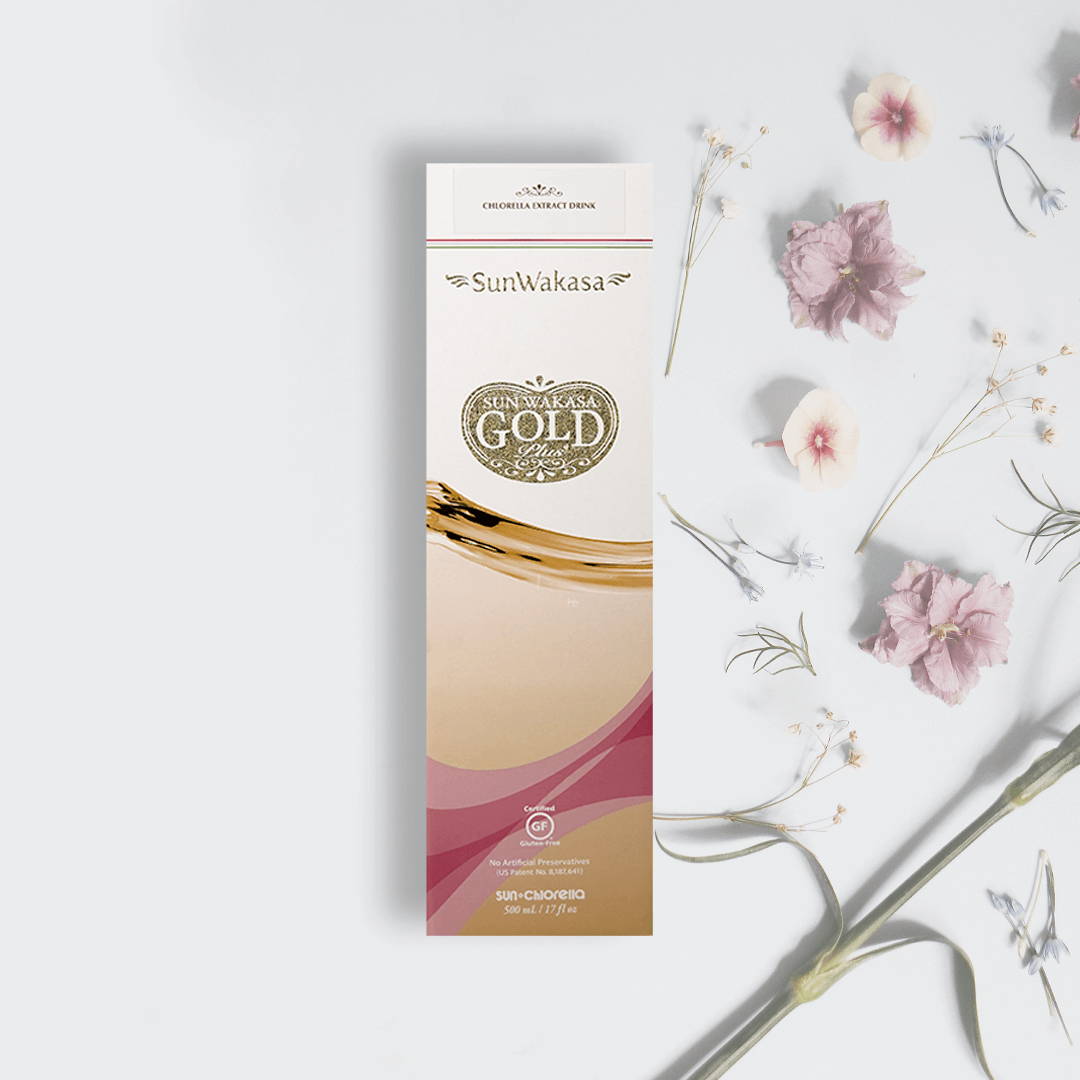 Sun Wakasa Gold Plus is the powerful liquid concentrate from the nucleus of the chlorella plant. It provides a unique blend of nucleic and amino acids, peptides, polysaccharides and beta glucans. This blend is known as Chlorella Growth Factor or CGF which has healing properties and may support our bodies general well being.
A daily dose of refreshing Sun Wakasa Gold Plus may deliver an impressive quantity of nutrients which may play an important role in maintaining good health.

Repair and regenerate cells and muscle tissue

Reduce recovery time post workout
You're bound to have a few questions
Find out all you need to know about our Sun Chlorella products or ask your own question below.
How do I take Sun Wakasa Gold Plus?
We recommend taking Sun Wakasa Gold Plus first thing in the morning on an empty stomach for the best effect.
What's so special about Sun Wakasa Gold Plus?
It contains a healing and rejuvenating compound called Chlorella Growth Factor (CGF).
I'm ready taking Sun Chlorella 'A' powder. Can I also take this Sun Wakasa Gold?
Yes. By combining Sun Wakasa Gold Plus with Sun Chlorella 'A' tablets or powder, you will get the full range of nutrients and health benefits that chlorella offers. Although Sun Wakasa Gold Plus is concentrated in CGF and supports cellular health, CGF does not contain the other valuable nutrients found in chlorella.

Health Advice, Recipes & more