Your Daily Supply Of Chlorella Tablets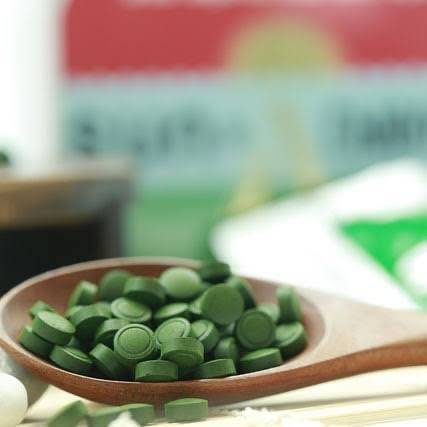 Sun Chlorella 'A' Tablets
Sun Chlorella is suitable for everyone at any stage of life, however, there are key areas where Sun Chlorella has shown particular promise:

Vegans and Vegetarians - Contains the 'Key Four' nutrients that may be lacking in some plant based diets: vitamin D (540% NRV), B12, Iron and DHA omega 3 fatty acid.

Pregnancy - Rich in Food-State iron may maintain iron levels in women especially during pregnancy.

Older Adults - Provides complete nutrition in a bioavailable, easily digestible food-state form.
Digestion - Shown clinically to have prebiotic effects supporting microbiome diversity, along with being a good source of fibre.

Detoxification – High levels of chlorophyll may help cleansing, balancing and nourishing the digestive system.

Immunity - Along with supporting a healthy gut microbiome, Sun Chlorella contains iron, vitamin D, folate and beta glucans, which all contribute to the function of a healthy immune system.
What's the main difference between chlorella & spirulina?
Unlike spirulina, chlorella is a single celled organism, and the richest source of chlorophyll on earth. Contains an active form of B12 and Chlorella Growth Factor (CGF). Whilst both are natural algae, spirulina is blue green in colour and colour is a green pigment.
Why should I choose Sun Chlorella tablets over others?
Sun Chlorella® is produced in a special way that ensures your body gets the most from all the nutrients. Chlorella has a very tough cell wall, which stops us from digesting it properly. Sun Chlorella® innovated a special process to solve this problem, using the DYNO®-Mill, a machine that breaks the cell walls so you can digest and absorb it efficiently.
What makes chlorella so special?
Chlorella is a single-celled, freshwater green algae often referred to as  'The King of Superfoods'!
Bursting with nutrients, chlorella contains vitamins, minerals, and more chlorophyll than most plant foods. One serving of chlorella contains an equivalent amount of chlorophyll as about 2-2.5 cups of spinach or kale.
Chlorella is also one of the only known plant sources of bio-available vitamin B12– great for those who follow a vegan or vegetarian diet.
Frequently bought together
Health Advice, Recipes & more